"…When you read Amir Valle in Cuba, Alberto Fuguet in Chile, Xavier Velasco in Mexico, Ray Loriga in Spain, you find a common language, the same spoken by Bret Easton Ellis in the United States or Coupeland in Canada, and which they seem to develop in the same spatiality of the postmodern condition: dystopia".

Elidio La Torre Lagares, Puerto Rican writer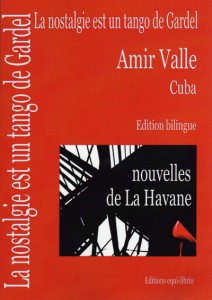 Six stories in which Cuba finds itself in some of its most controversial difficulties: a writer who travels to Paris and shares the drama of exile with other colleagues; a family that lives in an undefined place of the universe where masks observe; a black woman who waits facing the sea for a sea that departs, like a modern Penelope; a writer who discovers that long-awated posterity is too tortuous a path; a baseball fanatic who invites the mythical pitcher Duque Hernández in defense of nostaliga; and a writer who searches in Madrid for an old love, lost by his stubborness and (once more) exile.
These are the only short stories written in the last five years by the prolific novelist, Amir Valle.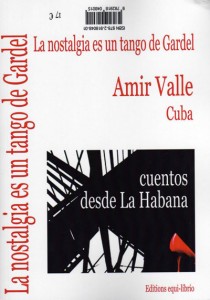 Equi-librio Éditions, Francia, 2008.
Bilingual Edition: France /Spanish
210 pages
ISBN: 978-2-918048-01