"…an audacious novel, astonishing, cutting edge, with courage throughout, and with the composition and balance of the most outstanding works about Latin American reality, which shows us that Amir Valle is an author who ennobles the detective genre today".

Alfredo Taján, Argentinian-Spanish writer
NOVELPOL PRIZE 2007 FOR BEST BLACK NOVEL PUBLISHED IN SPAIN
The illegal trafficking of people from Cuba to the United States across the Straits of Florida is the central theme of this novel, the fourth in a series starring Investigator Alain Bec and Alex Varga, the Magnate of Havana's Marginal World.
Recounting the actual testimony of survivors, Amir Valle introduces us to a hallucinatory world of murder, treachery and criminal manipulation of the hopes of thousands of Cubans trying to escape their terrible reality, and he brings to light the terrible social and human trauma of the exodus: the cold assassination of illegal immigrants, who pay the traffickers enormous sums of money to realize their dreams of achieving liberty in the United States, only to be hurled into the Caribbean Sea. Official statistics already have counted more than 20 thousand Cubans who have perished in this manner.
In his investigation, Alain Bec is again guided into the recesses of life on the social margins of the island by his old friend Alex Varga. They are accompanied by a vengeful prostitute, a father, traumatized because he has seen his son drown on the high sea, an extravagant but humanistic homosexual and two sinister traffickers, united by an aberrant and sickening brotherhood.
All the paths they follow will lead them to unsuspected connections of the human-smuggling business with prostitution, drugs, the black market, moral corruption and the exercise of political power by some sectors of the Cuban government.
Editorial Almuzara, Spain, 2006
244 pages
ISBN: 84-88586-26-4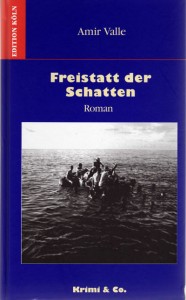 Edition Köln, Alemania, 2008
Colección: Krimi & Co.
316 páginas
ISBN: 3-936791-44-0